City produced somewhat of a shock result last Saturday against QPR. An accomplished attacking performance, albeit with a generous defence, saw the Tigers come away from Loftus Road with a 3-2 victory. The result lifts City out of the relegation zone which may provide a positive mental boost to the players.
This weekend City head to FA Cup 3rd round opponents Millwall who themselves are on a bad run of form. Given last weeks victory in London Nigel Adkins should be confident of getting something from the game. Dare we dream for back-to-back away wins? It would be typical of City's form this year for them to follow up a good win with a poor performance, but let's hope that is not the case this weekend.
Here's your update from the trust this week…
Second Anniversary of HCST Billboard Campaign.
It is 2 years ago this week since the unveiling of our billboard showing the massive increase in child pricing at City.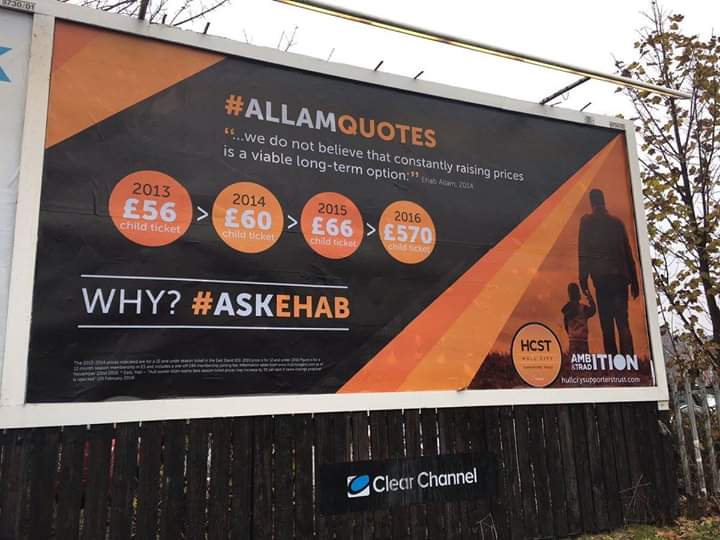 The billboard hilighted the greater than 10x increase in Season Pass prices for children from 2013 to 2016.
Although prices have reduced with our relegation from the Premier League, the cheapest Season Pass for a child is almost 5x the 2013 figure, and is in some cases over 8x.
We again urge the club to bring back genuine concessions to preserve the future fanbase.
Hull City Foodbank Donations Appeal
The Club, in conjunction with Hull Foodbanks and The Trussell Trust are supporting 'The Together Project' to help those facing hunger at this festive time.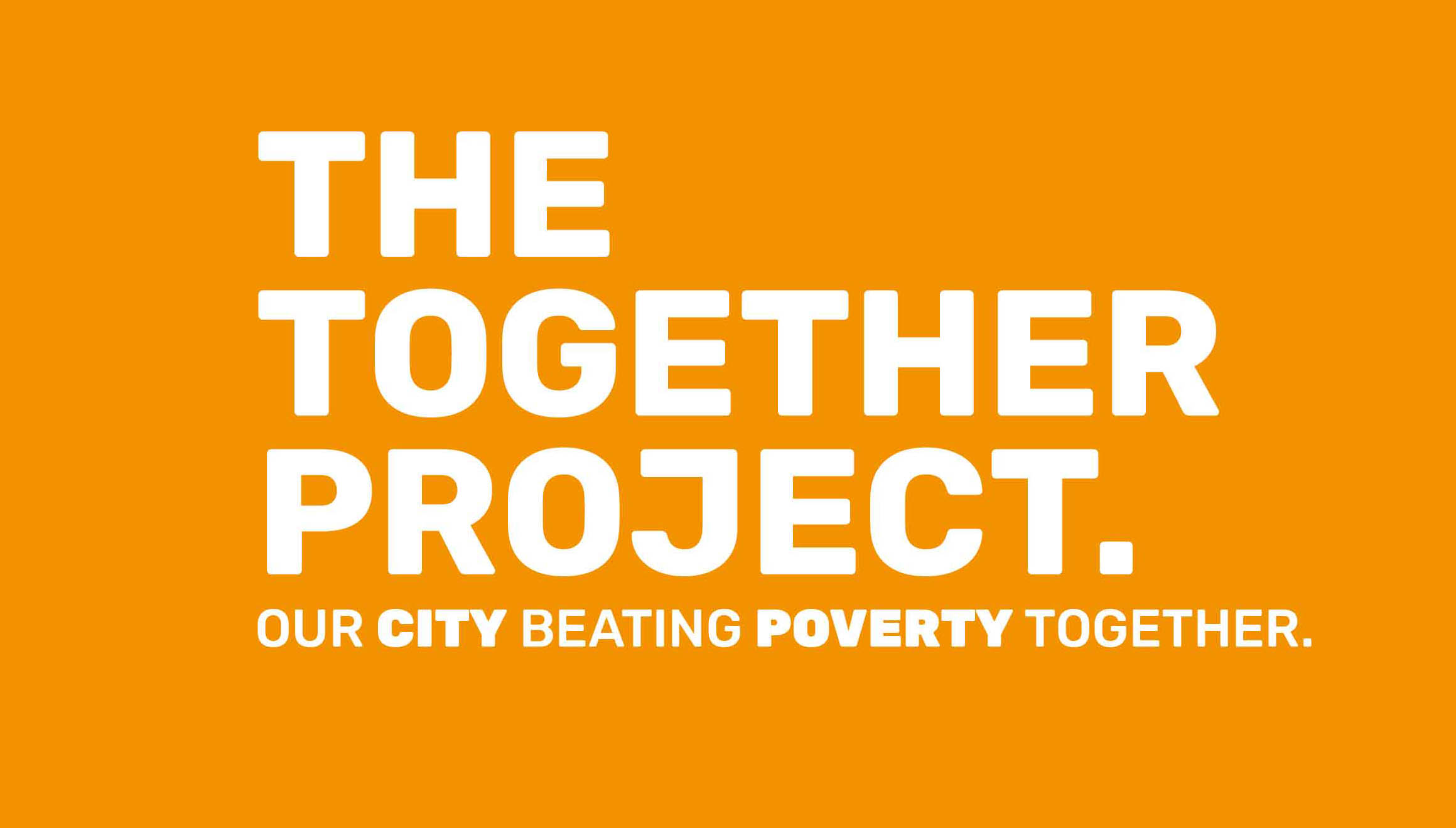 Amongst other events, the Club will be holding a 'Food Drop' in the Dugout Bar ahead of the next 2 home games against Brentford (Saturday 15th December) and Swansea City (Saturday 22nd December), with supporters invited to donate key items which will go towards helping those in need.
More details of the scheme can be found here on the club website, paying particular attention to which foodstuffs are suitable for donation.
So if you are able to help, the next time you are in the supermarket please add a couple of extra items to your shop for those in need at this time of year.
Attention Programme Collectors!
City programme collector @Tiger Programmes is looking for ONE final programme to complete his collection …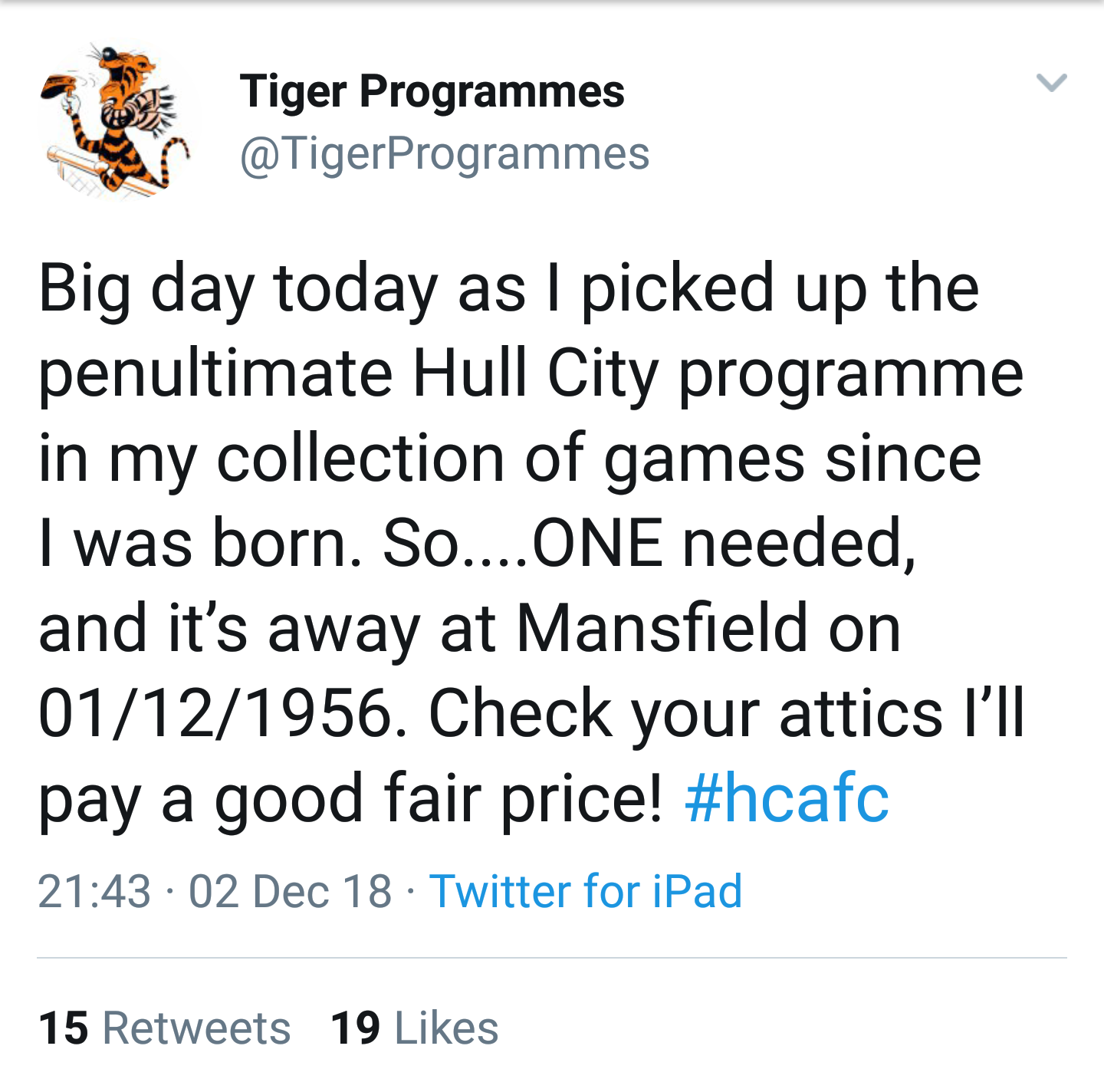 If you do have a copy of this programme to sell, (or know ove someone who might have one). please contact @Tiger Programmes on Twitter here, or alternatively contact us here and we will pass on your details.
Incedentally we lost 2-1 in that Division 3 (North)  game, Stevens WJ was the scorer for City, in front of a crowd of 8809 at Field Mill. (Thanks to the excellent Tigerbasewebsite for the details)
Annual General Meeting (AGM) Notice
Can all members please note that our next AGM will be held at the William Gemmell Social Club on Saturday 2nd March (n.b. Subject to change should the Birmingham City fixture be moved for TV coverage)

In accordance with our Rules, (full details on our website), we require an Election Management Group, (EMG), to oversee the election process for members nominated to stand as Board members. (n.b. Members of the EMG cannot stand for election to the Board in 2019)
The EMG members will be required to attend 2 meetings both of which should be no more than 1 hour in length and attended by the Trust Secretary as well as an independent observer, (i.e. a non-Trust member), who ensures the process is conducted correctly and transparently.
The first meeting will be in in January, (to finalise and confirm the election process), and the second meeting mid-February, (to review election nominees) Both meeting dates are currently tbc
Could any members wishing to volunteer to be part of the EMG please e-mail Richard via secretary@hullcityst.com to register their interest.
Funds available for Local Youth Football teams.
Do You (or someone you know) run a Hull Boys Sunday Football team or an East Riding Girls Team?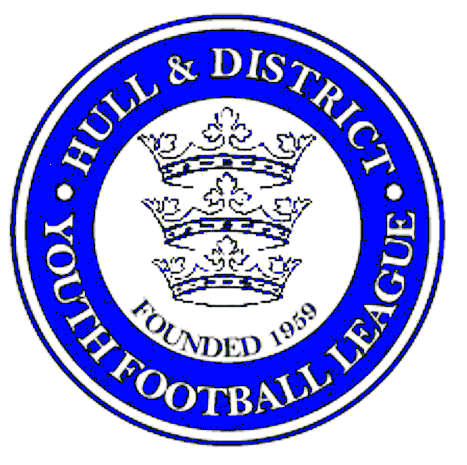 The collapse of the  Wembley sale might result in no extra funds going to grass roots football, but  don't worry – funding is available locally.
Several years ago, the then Tigers Co-Operative, now Hull City Supporters Trust, donated £6,000 to support local youth football teams.
For more details of the scheme follow the link here.
There are still funds available, of up to £100 per team. All you need to do is complete the application form available here.
Good Luck!
Development Review
It's been an up and down week for the young Tigers, starting with 2-1 defeats but ending with a 2-1 cup victory.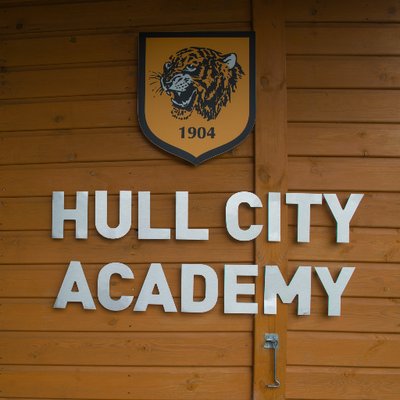 Last Friday the under 23 side travelled down to South Wales to take on Category 1 side Swansea City.  Billy Chadwick was on the score sheet, but it was not enough to peg back 2 first half goals in what was a tight 2-1 defeat.  They are next in action on Monday evening when they take on Bolton Wanderers at the Roy West Centre.  Kick off is 19:00 and we hope card holders will go down to support the team.
The under 18 side also started the week on the road, this time the much shorter trip to take on Sheffield Wednesday last Saturday.  A second half goal from Rob Guilfoyle proved only to be a late consolation as the game ended 2-1 after Wednesday scored 2 in the first half.  The team did not dwell on the result though as they were in action at the KCOM stadium on Wednesday evening when they took on Cardiff City in the FA Youth Cup.  They got off to a poor start conceding in the opening minutes, but soon rallied and just before the break Keane Lewis-Potter evened the score.  In the second half Rob Guilfoyle scored the second and they managed to see the game out for a 2-1 victory.
The under 18 side is in action again tomorrow (Saturday)  when they take on Burnley at Bishop Burton College.  Please note this is a 12:00 kick off.
Hull City Ladies
The Tigresses rounded off 2018 with an emphatic 5-0 victory away at Long Eaton United in the FA Women's Cup.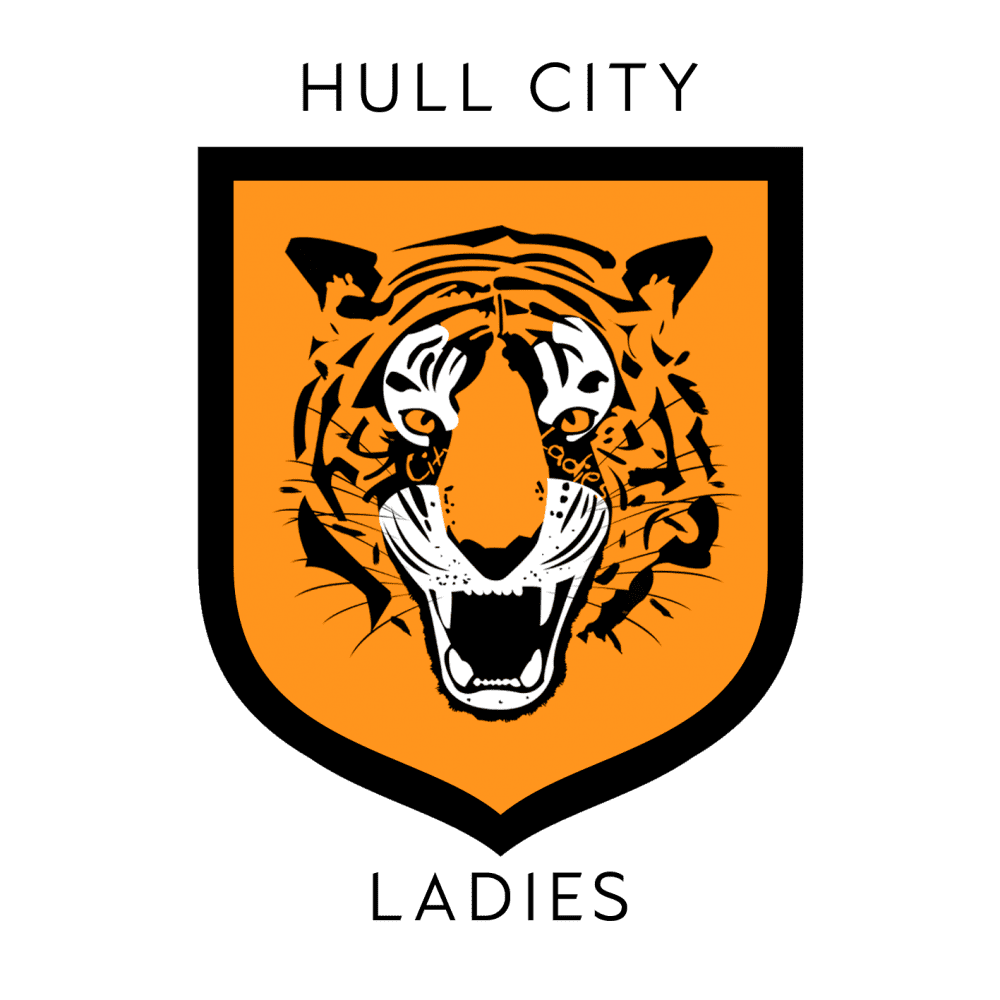 City showed some clinical finishing against their spirited opponents and have been rewarded with a home game in the next round against AFC Wimbledon Ladies on January 6th.
This weekend's League Cup tie away at Bolton Wanderers Ladies needs to be rescheduled as the Trotters have to play their WFA Cup match that was postponed last Sunday. So the Tigresses now have a break until they return to cup action in the New Year.
For more articles on The Ladies check out the excellent Fanatic Hull website.
Tiger Talk
The latest musings on all things City related from our Associate Writer Kathryn Batte.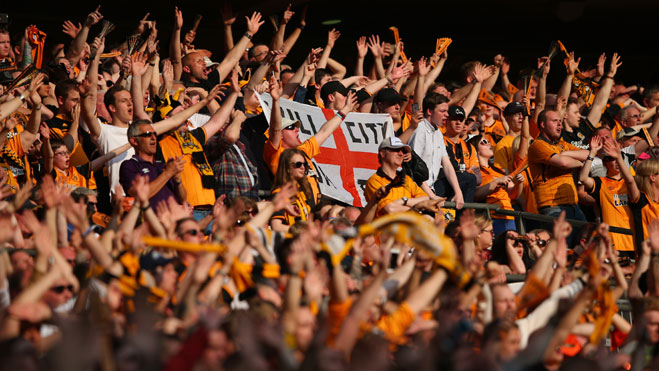 Please follow the link  here .
Stocking Filler
If you're still struggling to know what to get a Hull City loving family member or friend for Christmas, then we may have the answer with a 3 year HCST Membership pack.

Available for just £11 for non-members or existing members can be upgraded for £10
Don't forget 1 year and Lifetime memberships are also available, as well as a Junior membership, (for fans aged 16 or under),  for just £2 – visit our website for details.
Memberships already sorted? Then why not get them somethig from our wide range of gifts available in our on-line shop here.
Amber Nectar
More wisdom from our friends at Amber Nectar.

Please follow these links for the latest Podcast and  Things We Think We Think.
Hull City Fans Forum on Hull Kingston Radio
More fan-focused chat from our friends at HKR.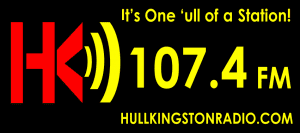 You can listen to the latest programme here.
Tigers Down Under
The latest podcast from our antipodean friends. Available on YouTube and Soundcloud.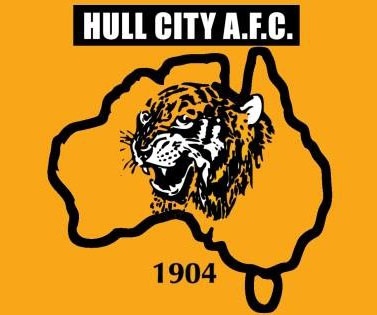 Please follow them on Facebook and Twitter.
HCST's Partners of the Week 
In this week's Partner of the Week section, we have an in-focus look at two HCST partners – Ska and Soul & Brookes Menswear.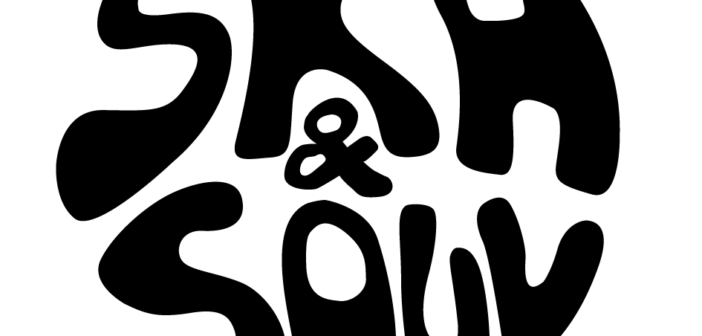 Our first partner of the week is Ska and Soul
Ska and Soul is a premium British men's fashion brand, based in York and owned by a City fan. Ska and Soul is the official clothing licensee for Trojan Records (skawear) and Wigan Casino (soulwear). Just email contact@HullCityST.com with your name and membership number to receive your 'discount code' to be entered at the checkout for a 10% price reduction on all purchases.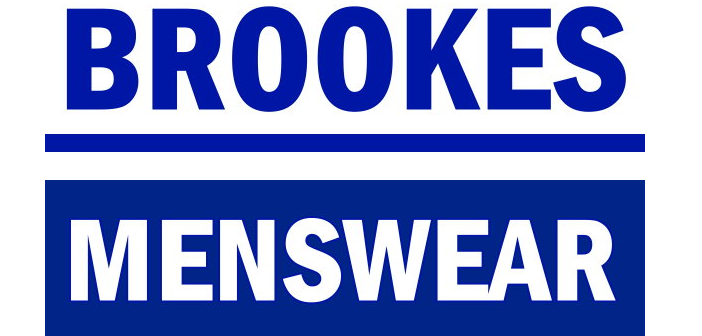 Our second partner of the week is Brookes Menswear
51 King Edward Street, Hull, HU1 3RW, 01482 589886, open Mon-Sat 9am to 5pm, Sun 10am to 4pm, click our Facebook link
10% OFF IN-STORE PURCHASES
Brookes Menswear is small and independent mens' fashion store located in the city centre that has been open for many years. We are known for stocking classic brands like Fred Perry, high street brands like Duck & Cover, Jack & Jones and now new brands Trojan, Dickens & Browne, Lindbergh and Shine Original. We have regular customers that come from all around – from Bridlington, Scarborough and from across the bridge – for our polite and cheeky customer service. Sizes start from XS-XXL.
Merchandise Offer
For this week's offer, City / HCAFC scarves are £4. Buy yours from the store here.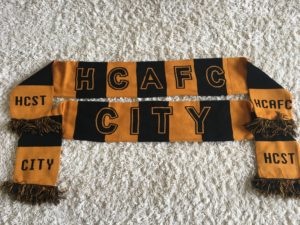 Stop the front page!
HCST are looking for new contributors to our website.
These can be articles about football in general, all things Hull City or match reports. So if you're a sports journalist in the making or just fancy giving it a go as a hobby please let us know – you don't need to be a professional – all articles will be welcome. There's no requirement to produce words every week or month, just as and when you are able to. If you are interested please email us here.